What's new in 1.6.0
It may doesn't seem like it at first sight, but this new revision is a pretty big deal for us. Mainly because we have had new comers over the last few month and they have been involved in this new release which was a great test for our development process, our release process, our capability to teach our system to new people. It went great and we are very happy about this new release. We hope you will like this latest solution even if you haven't played with Ganister PLM yet.
Upgrades
Not much new on the upgrades side except that datamodeldiff is gone. We don't manage datamodel diff as a specific file anymore. If you are upgrading to 1.6.0 you will see that your datamodel is been managed with one file per nodetype. It seems like a lot of files but after the few customer projects we have had we realized it was a lot easier to manage the datamodel with splitted files. Get in touch for more details, because it becomes more technical ;).
For Cloud customers, you don't need to worry about upgrades ! We will talk to you and let you know when we can run an upgrade if you want it.
Ganister Server
Many improvement have been done on the server side. If you are not in production yet with Ganister, you won't notice it. We have parametrized most of our cypher query to the database which should speed up all our queries due to the neo4j caching mechanism.
We have reworked the way custom methods are called. You can catch a method fail without stopping the whole process (in case you are fetching optional data from another system for example)
If you are running Ganister PLM yourself, notice that we depreciated the use of neo4j versions older than 4.1.
Change list for Ganister Server :
Rework the Datamodel management, no more datamodeldiff!
Automatically create datamodel nodetypes indexes in Neo4j
Store Custom methods as Js files to enhance Git Version management
Rework Methods trigger management
Add Triggers around GET Functions
Normalize data query format
Enhance Db Queries with Cypher optimization
Add Nutriscore calculation for Food PLM
Add a core _releasedUntil date property
Integrate with Convert API to enable Word to PDF conversion
Ganister UI
We have added several UI components or mechanisms. It should give more potential answers to customers needs.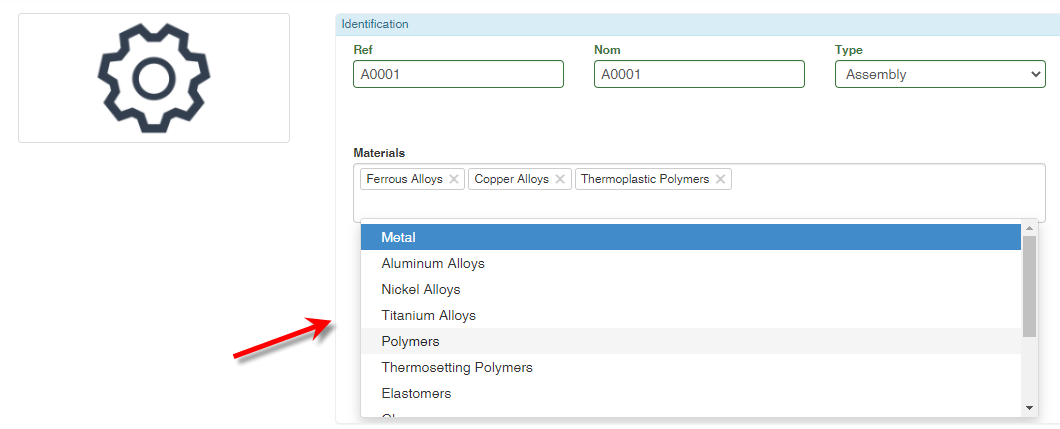 nutriscore (for food PLM)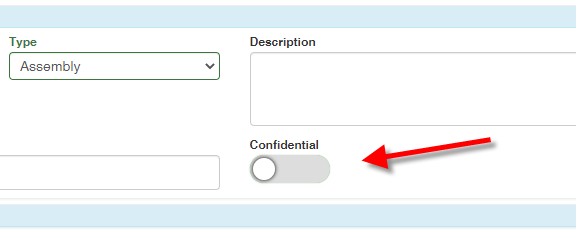 conditional Tabs
conditional Fields
translations for left panel menu
in-grid list filters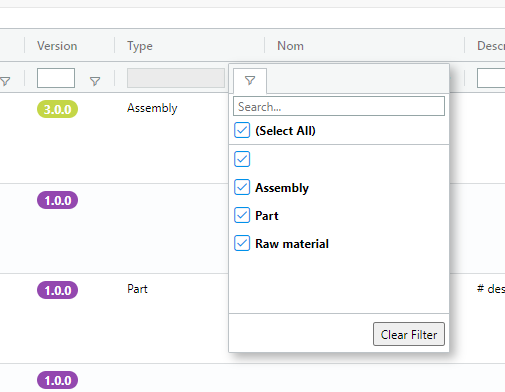 klay graph view for project management

G-Config
In addition to many small UI enhancements, the main upgrade in g-config is the complete rework of the Groups and Permissions management. This was a very logical UI but not very user friendly. With the help of customers suggestions and graph representations, we've built a much better experience for configuring your organization's accesses.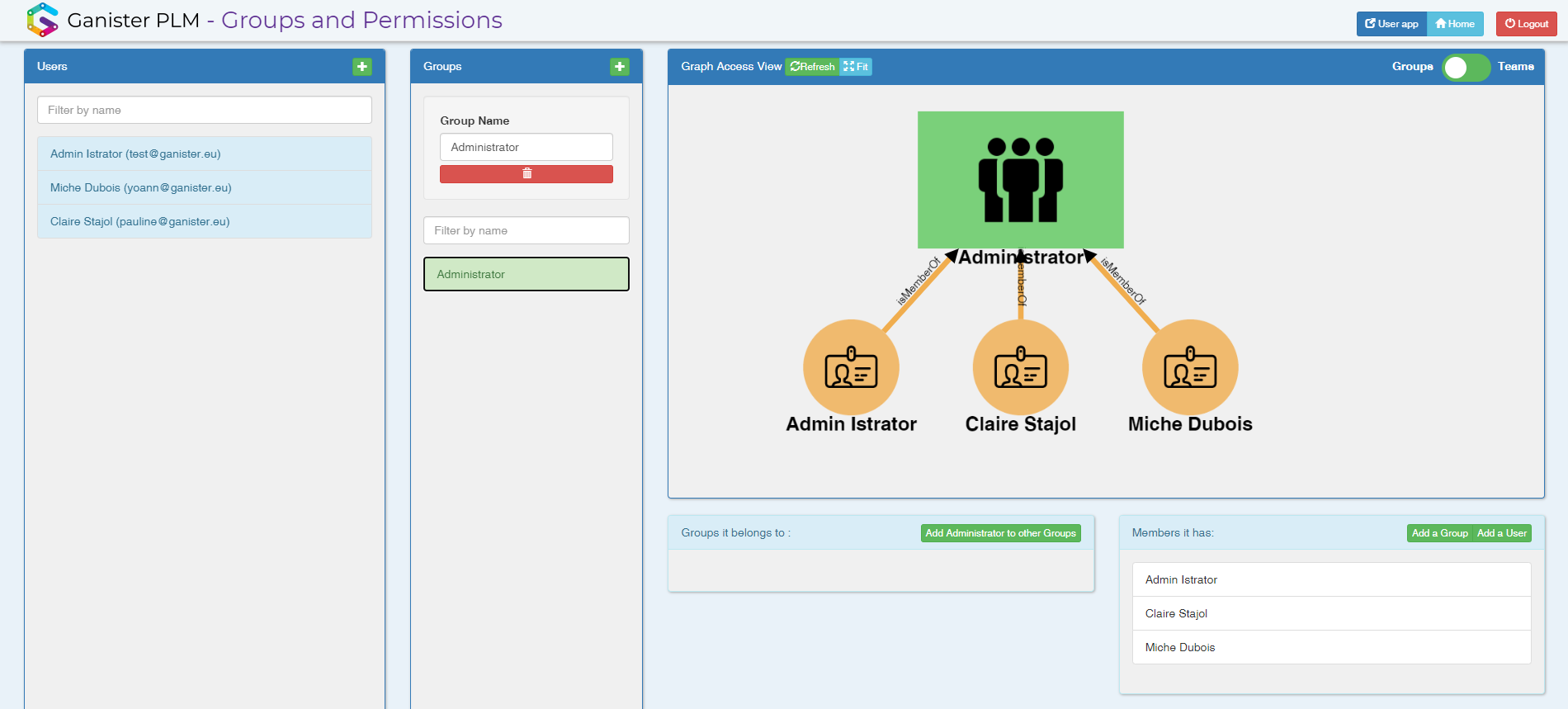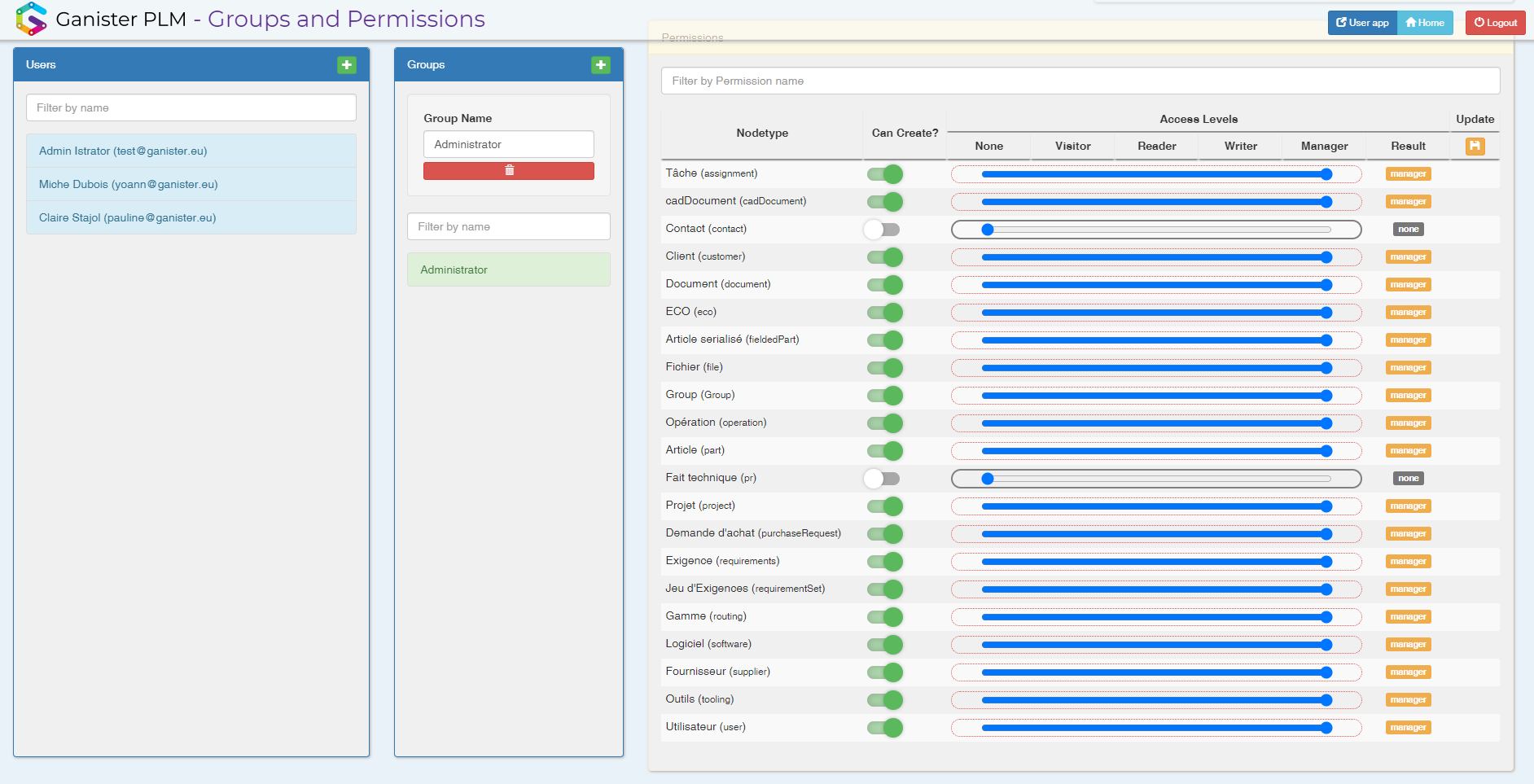 few other improvements for g-config:
Separate Core and non-Core properties in dropdown lists

enhance multiselection lists for reverse relationship config

Allow to change ECO actions labels

Totally redesign user & permission management

Initiating a listing of the Open Source components we use

Enhance list of values editor design

Round states position in lifecycle graphs, helps aligning

Add more translation capabilities

Fix Custom Packages management

Allow to set Mandatory props and relationships on lifecycle promotion

Allow to define if a custom method fail stops the process or not"
If you are registered as a partner you can have access to the list of changes on our secure portal.
Word from our CEO
"This 1.6 release is a great achievement for Ganister. We developed it while growing the headcount of the company which is a great challenge to demonstrate our company's foundations. We also mix more and more our initial intuitions with customers direct inputs and enhancement request. We live at a great time for software development. We are doing our best to convert this into greater and more flexible PLM solutions." says our CEO Yoann Maingon.
Download It
To download it, use our Ganister Installer
Back to work !
We are back at work for the next releases. We will more and more work on business features around system engineering, Manufacturing process design, CAD integrations,…