☕ Get another Coffee (or tea) and watch how you can configure Ganister!
We are speeding up on recording videos. This is mainly made for consultants or technical teams willing to implement Ganister in order to fit their business needs of digitalization.
👓 A few words about major configuration elements
Datamodel
The datamodel configuration tool is our main piece of toolbox for anyone who wants to configure Ganister for their own needs. It shows you in a graph your full datamodel. By clicking on a nodetype or on a relationship definition you can configure pretty much everything: properties, forms, lifecycle, etc.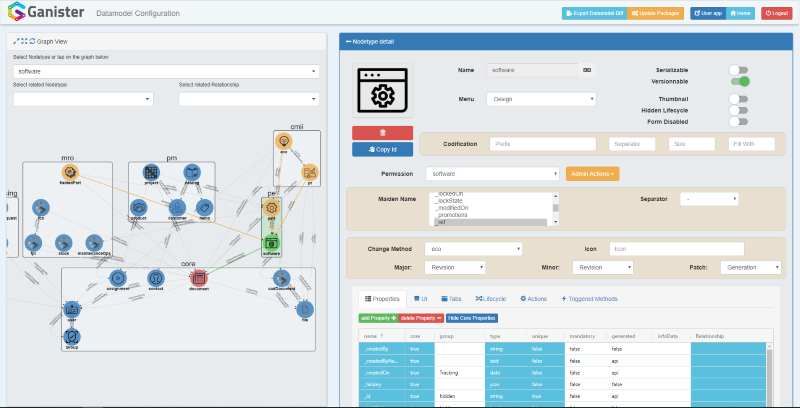 Methods
We have built a lot of configuration points but we know there will always be a moment when you need to go one step further than we imagined. Therefor you can extend our configuration capabilities by adding additional code right inside Ganister. It is full javascript and we provide an internal API to help you manipulate all your data.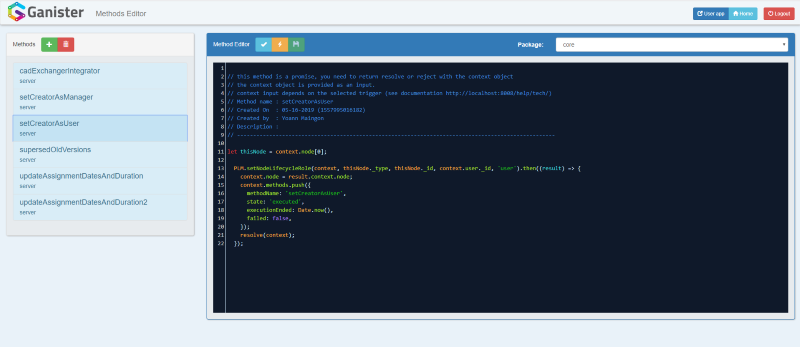 Groups & Users
We will give more details on how we manage users, groups and permissions in Ganister. It is all graph based and we allow you to configure these links very easily.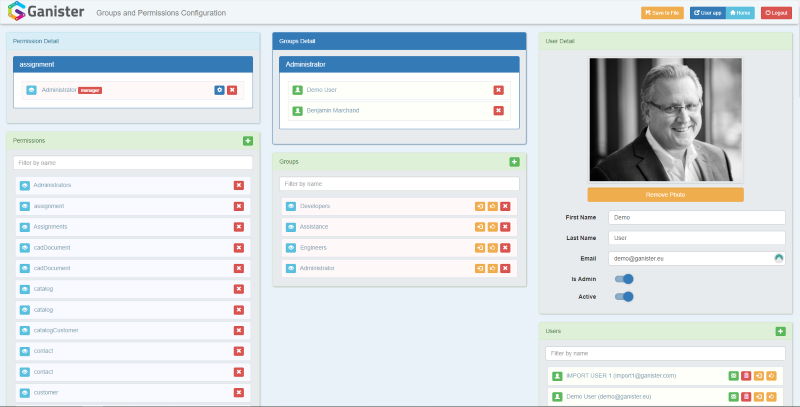 List of Values
Not much to say, LOVs (or List of values, but we love to say LOVs!) are in most softwares. We didn't have to be geniuses to build this UI.

Reports
There is a little bit more science in Reports than in List of values. Here the concept is the following:
you define for which context we want to create a report
you write your cypher query to grab all the data needed for the report
you design you report table and map the columns with the data retrieved.
Categories
The categories are the groups of nodetype the users will see in the left panel.

Health Report
We want the implementer to get the best experience possible when manipulating Ganister. To keep them safe, we have built a set of mechanisms that are constantly auditing the application and the database to make sure the data is always inline with the application.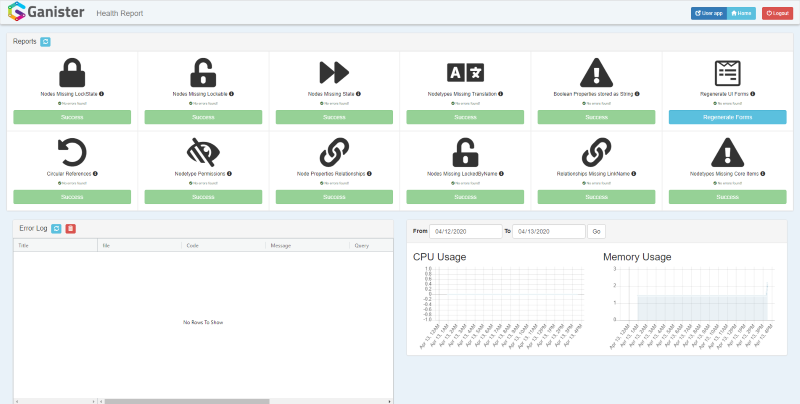 Settings
We are making settings richer at every release. The goal is to make it simple to make application global adjustments like Logos, major look and feel setups, etc.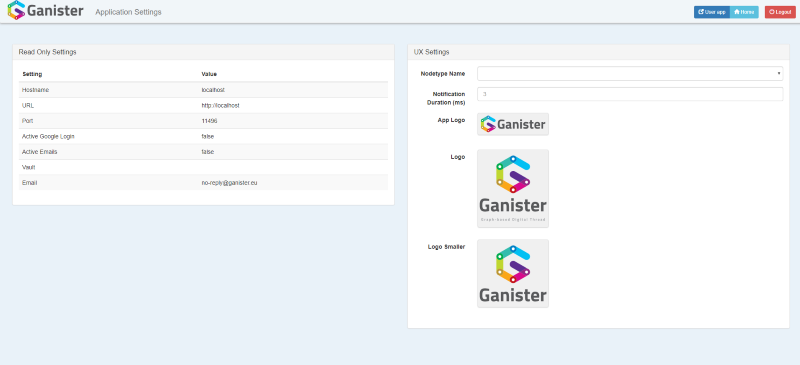 Translation
Ganister supports any number of languages and we provide you with a simple user interface to maintain the translations.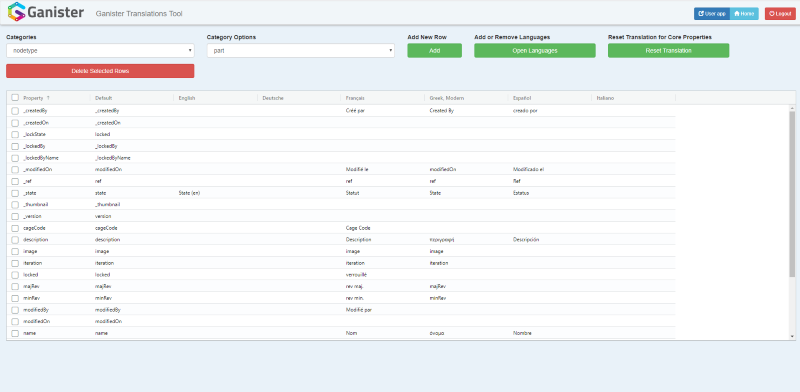 API Documentation
We are API first, which means that every feature we build is first published as a REST API. It allows us to publish a Swagger documentation, which can be directly tested from the documentation itself.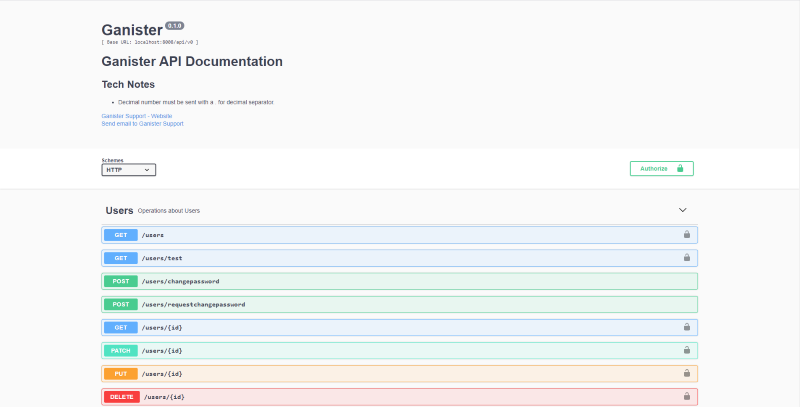 Tech Documentation
We also built our own configuration and development documentation for anyone who is configuring Ganister. All our documentation are written in markdown. It allows you to customize the documentation for your own needs (you will mainly need to do it for user documentation) and still be able to easily selectively merge our changes in the future.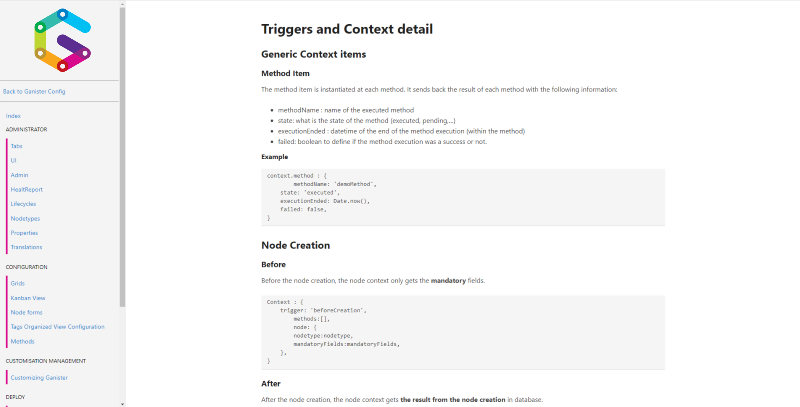 If you want to try Ganister or get a live presentation: